Divorce FAQ
Get Answers to Your Questions About California Divorce Laws
Are you considering a divorce?
If your relationship appears headed for an end, you may be seeking information regarding the divorce process, California divorce laws, and more. Here at Cage & Miles, we receive a lot of common questions early in the divorce process. While your case is unique and the exact answers will depend on your circumstances, below are some general answers to some frequently asked questions.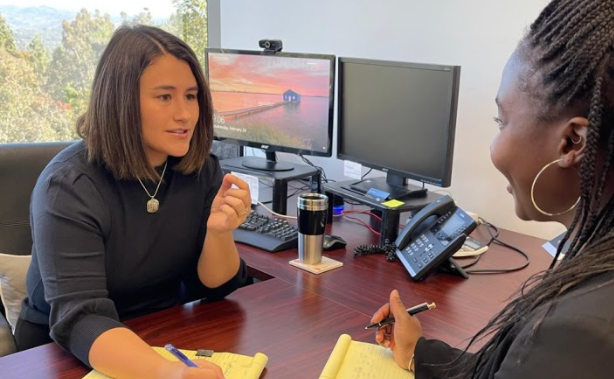 FAQ
Q: How long does it take to get a divorce in California?


A: The answer to this question is never straightforward because it will depend largely on how well you and your spouse can work together throughout the process. If you both make a genuine effort during negotiations to be reasonable, then your divorce will be much faster than if you spend the entire process taking each issue to court. However, California divorce laws also mandate that a divorce cannot be finalized until six months after service of the divorce petition, so it will take at least six months to terminate your marital status, no matter your situation.
FAQ
Q: Should I be worried about losing child custody?


A: As long as contact between a parent and child is in the child's best interests, the courts make every effort to ensure that both parents remain involved in the lives of their children. It's actually pretty rare for one parent to be awarded sole child custody. The courts strongly prefer to develop a fair parenting plan that is beneficial to the child and ensures frequent and continuing contact between the child and both parents.
FAQ
Q: What is a "no-fault" divorce?


A: California was the first state to adopt a "no-fault" divorce law, which simply means that your family law judge can grant you a divorce simply by citing "irreconcilable differences." While this does make a divorce obtainable by nearly any person seeking to end their marriage, it does also mean that poor conduct during the marriage is usually not allowed to play a role in a judge's decisions regarding property division, spousal support, child support, and child custody. One big exception to this general rule arises in cases involving domestic violence.
FAQ
Q: Do I need to hire a divorce attorney?


A: It's not required that you obtain an attorney for your case, but it is strongly advised. Divorces involve an immense amount of paperwork, negotiation, meeting deadlines, and other potentially stressful issues, and failing to accomplish even one of these tasks on time can seriously damage your case and set you up for a conclusion that will ultimately leave you extremely unhappy. A good divorce attorney can help you ensure that everything is done properly and put you on the best path to a happy future, making them well worth the investment.
FAQ
Q: How does alimony work?


A: This also will largely depend on your circumstances. No two divorce cases are the same, and your judge will consider a number of factors when determining whether or not to award one spouse a spousal support payment. Generally, the court will consider the need for support, the ability of a spouse to pay support, the length of the marriage, the earning potential of the supported spouse, any relevant health considerations, documented evidence of domestic violence, and all assets/obligations of the parties.
The importance of your choice in legal representation cannot be understated. At Cage & Miles, we understand that even the most uncontested and amicable divorces can quickly turn into one that requires a high level of litigation and negotiations. We have represented professionals, executives, high-profile personnel, and other families with significant wealth in divorce matters. Our team has a sophisticated understanding of California divorce laws and the discretion required to handle high-asset divorce cases involving sensitive financial and personal information. With us on your side, you can trust that we are prepared to handle even the toughest legal aspects of your divorce.
| September 12, 2023
Since 2006, Joe Jonas has been a household name as the lead singer of the pop-rock boy band, The Jonas Brothers. A few years later, Sophie Turner..
"They have explained everything every step of the way and made me feel comfortable asking even the most seemingly ridiculous questions and happily answered them, giving me peace of mind and a clear understanding of the laws."
-
Former clients share their experience
"They have made a very terrible situation bearable to go though and have repeatedly decreased my anxiety and fear by being readily available and giving me clear and concise answers that put me at ease."
-
Former clients share their experience
"Not only do they have the legal knowledge necessary to navigate complicated divorce settlements and custody cases, they understand the nuances of the Family Court system. I felt prepared every step of the way."
-
Former clients share their experience
Get a 30-Minute, Free Consultation
Contact us today for a confidential, introductory conversation with our Client Intake Specialist. We'll talk with you about your unique family law matter, and match you with an attorney who is best suited to handle the particular issues in your case, so we can help you take the next step forward - no strings attached.